About
The Integrated Global Water Cycle Observations (IGWCO) Community of Practice (CoP) brings together the interests of a number of representatives from nations and organizations, experts, and resource managers who are interested in the use of water cycle data in the management of the world's water on local, regional, and global scales. It involves people who are interested in the development of water cycle understanding, data products and information systems, the demonstration and assessment of the usefulness of these systems, the dissemination of the results through capacity-building and technology transfer, and the deployment of these systems and products through regional networks.
IGWCO CoP has its roots in the former Integrated Global Observation Strategy Partnership (IGOS-P) and the community that implemented the IGOS-P water cycle theme. In 2008, this group officially became the Group on Earth Observations (GEO) IGWCO CoP. In the GEO context, it also fosters the development of broader global and regional networks that deal with science and applications issues.
The IGWCO CoP brings together data providers, scientists, resource managers, and other users from national and international governments, universities, and organizations that are interested in the application of water cycle data in the management of the world's water on local, regional, and global scales.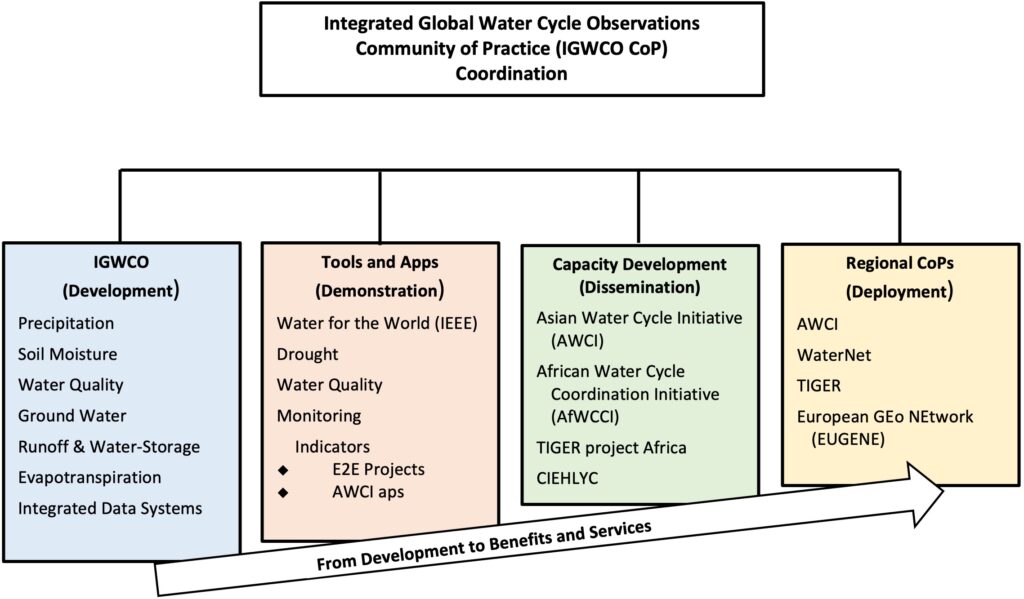 Mission
The IGWCO CoP undertakes and contributes to GEO studies involving innovative approaches to data collection and the application of Earth observations to decision making in the water sector. It provides leadership for many of the GEO Water Task activities and provides a forum to discuss their progress and plans. The CoP carries forward activities that have not yet been "vested" in the GEO work plan but take advantage of GEO capabilities.
Objective
The objectives of the GEO IGWCO CoP include:
Providing a framework for guiding decisions regarding priorities and strategies for the maintenance and enhancement of water cycle observations.
Promoting strategies that facilitate the acquisition, processing, and distribution of data products needed for effective management of the world's water resources.
Coordinating and facilitating the inputs of the global water community and its user community into the Global Earth Observation System of Systems (GEOSS) plans and reports.
Fostering the development of tools, applications, and systems that facilitate the inclusion of water cycle information in decision-making.
How to get involved
The GEO IGWCO CoP is generally a "best efforts" activity and is open for anyone to join, contribute, and to track progress on the GEO Water Task. If you are interested in participating in, or staying informed about, IGWCO CoP activites send us a message at IGWCO@outlook.com or subscribe to our mailing list below
Documents and Resources
For Documents and minutes of our meetings click here
Links to our Partners
Group on Earth Observations (GEO)
GEO Global Water Sustainability (GEO GLOWS)
Global Energy and Water Exchanges program (GEWEX)
Global Terrestrial Network – Hydrology (GTN-H)
World Climate Research Programme (WCRP)